Ever since my 30th birthday I've started this new collection - Jordans. I don't know how it happened or why it happened, but having a collector's mindset, you are always susceptible of buying in on something you want to invest in. Normally when you say invest, you think of something that will increase in value over time, normally in a monetary sense. With this particular "collection" it serves more of a nostalgic investment.
In my early years of high school I absolutely loved basketball, played it all the time. You're looking at a Freshman B-team reserve! Haha. That only proves how much I liked to play. I could have just quit because I was a scrub on the B-TEAM, but I didn't. As long as I got to play everyday during practice, I was a happy kid! I found actual playing time in the PBA [Philippine Basketball League] in Chicago. My parents knew that being in high school, it was important for me to have my own identity through my own thoughts as well as with what I wore. Even then, basketball shoes defined me. I did have issues though having my parents spend a boatload on shoes for me though. My dad splurged on me and agreed to buy me some Jordans. I couldn't believe it, so he bought the Jordans from that year:
Back then I believe they went for over $140. I wore them once, and then couldn't wear them again, they were just too expensive. We went back and returned them for a pair of Air Max's, which weren't as expensive - closer to $100. $40 was a lot to a high school Freshman back then! And by then I was able to pay for most of it with allowance money. There was part of me that really wanted the Jordans, because the Bulls were my team and Jordan was the man. But I felt I didn't deserve them.
Fast-forward to my 30th birthday last year. Until that point in time, the only pair of Jordan's I owned were the Jordan 8s my dad bought me for a couple of days. Why not splurge on myself, especially since I received a bunch of gift cards for my birthday. I picked up the
Jordan Sixty-Plus
. Not a design MJ ever wore in a game, but still a pretty sick shoe in my opinion. There are different color variations, but I'll always stick to the Black and Reds.
Or so I thought...I find out that the Jordan retro 11s were being released, also known as the "Space Jams". I remember seeing them back in the day and loving them then! So I had to get a pair of those too! And as you can see at the top of this entry, I got them :)
I thought for sure I was done...nope! January comes, and I find out that the Jordan Retro 6s were coming out. C'MON SON! Can't I get a break? These were the ones that Jordan wore during his FIRST championship with the Bulls. After finally getting over the hump that were the "Bad Boys" Detroit Pistons, the Bulls beat the Lakers. Had to absolutely get those! So here are these three together: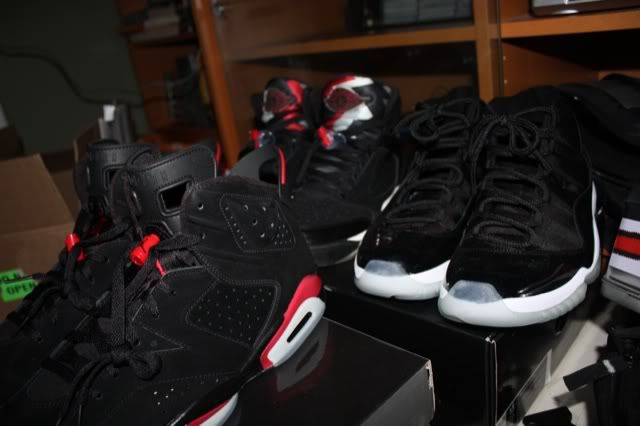 Three months, three new pairs of Jordans. Something just seems wrong to me about it. Honestly it is better than what I used to spend monthly on boxes on top of boxes of cards. Plus I am guaranteed to like what I have here! I couldn't wear any of these to actually play ball in (imagine that, basketball shoes I can't play basketball in?) so I had to get one more pair of shoes because my old basketball shoes had already played their last game, several months ago. So what did I get? Yup, another pair of Jordans. This time, ones I could scuff up and not worry about too much:
Jordan Schoolin'
I'm done right? Nah, just getting started! My next conquest, the Space Jams 25th Anniversary edition, that's right, all white!
It just all spun out of control, but I am enjoying these everytime I wear them or look at them. And I remember the first time I saw them back in the day. It just brings me back like the smell of home cooking does. Ultimately, I want a pair of those Jordans we returned for the Air Max's. That ugly looking carpet icon on the tongue still makes me shake my head, but it makes me remember the days of B-Team and PBA, when basketball was purely about fun, and not about exercise and NOT getting hurt like it does today. Yeah, that's where I'm at in my basketball career.