(I am sure this topic has been mentioned before, but now I have a blog, so it's my turn!)
ONE of ONE?!?! You mean this card is the ONLY ONE of its kind?! Wow!
That is what I would have said 6 years ago. I remember pulling a Jonathan Bender printing plate from 04-05 Topps Finest and I was pretty excited! I could have cared less WHO it was I pulled, I just pulled a 1/1! Now there are 1/1s for every card, parallel, patch, jersey, auto, etc. I have shied away from collecting one person, but when I was still collecting Tyrus Thomas and Thabo Sefolosha [Yeah, sad I know!] it was damn near impossible to get a master set of any of the cards. I went after Thabo's rookie year topps finest XRC set. How many 1/1 superfractor parallels was I on the lookout for? Let's count: Regular superfractor, framed superfractor, framed x-superfractor, red superfractor, green superfractor, gold superfractor, black superfractor, and of course all of the printing plates: cyan, blue, yellow, and black. That's right ELEVEN 1/1s to go after in just ONE set! I found myself looking EVERY day on Ebay trying to find any of them I didn't have. this was as far as I got: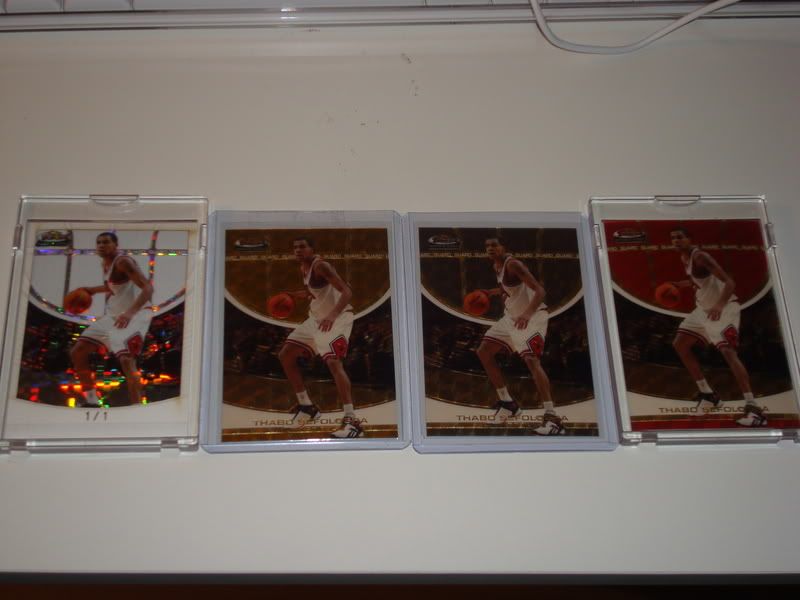 I remember losing the green superfractor and being superpissed about it, but that was the fun of it back then. I ended up selling most of these for roughly about how much I bought them for, so it was fun trying. I think I may just have one of them left, just for remembrance, haha.
It was around this time (2005-06 products) that the parallels were getting ridiculous. In addition to all of those 1/1s, you can't forget the "regular" parallels you had to go for. In this particular set there was base, base refractor, base x-fractor, red refractor, red x-fractor, green refractor, green x-fractor, gold refractor, gold x-fractor, black refractor, and black x-fractor. If memory serves me correctly, 2005-06 was the first year that each color refractor had a corresponding 1/1 superfractor. I mean seriously, it's enough to drive any player collector crazy! And ever since then, the subsequent products all followed suit.
1/1s should be reserved for the most sought after cards of the set. We really do not need one for every base card or every parallel. In fact, kill off all of the parallels, maybe just ONE parallel numbered to 10 or something like that. I even liked what Exquisite did, one base version, one jersey card version #d to 25 and patch version. With the pricing of Exquisite always being crazy, they also had to put in a patch auto 1/1 version of each base card too. Oh yeah, like this?
Yeah...I pulled that :) Was I happy? Hell yeah! At least Al Jefferson was a decent player! If it were Mike Bibby, I would've been upset (sorry Vanson!).
But now let's pretend the only 1/1s you could get in Exquisite were cards that really deserved to be called "Exquisite 1/1s" like logomen or one sweet Jordan, Kobe, or Lebron card. Make it really worth something. Now I know Upper Deck is in it for the money, so if these rare 1/1s were pulled early in the release, no one would want to buy Exquisite anymore. BUT, if these cards were not pulled early, imagine the hype Exquisite would get then! It doesn't have to end with Exquisite. If every product did have those limited set of chase cards, people would continue to buy the product, as long as they were available.
Unfortunately [or actually fortunately for my wallet], Upper Deck cannot produce anymore NBA cards for the next few years, so any new Exquisite will be gone in the basketball. Once Panini's license is up, who knows what will happen. But in looking at some of the products that Panini has released, the "popularity" of 1/1s will stay where it is at in new basketball products.
Today, if I pulled that same 1/1 Jonathan Bender printing plate, I might not even put it in a top loader if I didn't have any available. For all products and for all card companies...please bring value back in our cards, by not completely saturating the market with words like 1/1. It's up to you to make our cards "one of a kind".